About Our Music Director/Conductor Joe Striplin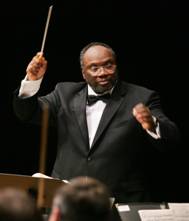 Joseph Striplin has been a member of the Detroit Symphony Orchestra since 1972.
Striplin began musical studies in the Detroit Public Schools.  He is a graduate of Cass Technical High School and Wayne State University.
Launching his professional music career as a teacher for three years in the Detroit Public Schools, Striplin became a member of the Metropolitan Opera National Company Orchestra. From there, he performed with the Indianapolis Symphony for one season, and spent four seasons with the St Louis Symphony before coming to Detroit.
An accomplished conductor, Striplin's formal study began under the guidance of Valter Poole and continued with private instruction from Gustav Meier of the University of Michigan. He has also guest conducted for the Lyric Chamber Ensemble and the Wayne State University Summer String Orchestra. In February of 1994, Striplin conducted the Savannah (Ga.) Symphony during its ninth annual Black Heritage Week, where he was also involved in lectures and discussions. Subsequently, he was invited back as a guest conductor during the Savannah Symphony's 1997 season.  In 1996, he concluded ten years as Associate Conductor of the Detroit Symphony Civic Orchestra, the DSO's pre-professional training orchestra. Currently he is serving as Conductor and Music Director of the Southfield Philharmonic.
Maestro Striplin teaches violin privately and performs recitals and chamber music in the Detroit metropolitan area. He lives in Ann Arbor with his wife, Dana, who is an accomplished pianist.